A lot of people tend to believe that medical billing and coding are the same. Some of the medical billers are known as coders and vice versa. In reality, they are not! In this post, we have rounded up all the differences that you need to know about medical billing and coding.
What's the Difference Between a Medical Biller & Medical Coder?
Both medical billing and medical coding require many of the same skills and work on similar tasks. However, Medical Billing & Medical Coding are two different professions. Here are the differences between the two and their similarities…
Medical Billing and Coding in a Nutshell
Both jobs require working with a patient's medical records.
Medical Coders
Medical coders are responsible for assigning proper codes to claims. He or she is knowledgeable about where and how to use the correct ICD-9 (International Classification of Diseases) and tens codes, HCPCS coding, customer billing, inpatient and outpatient coding, anatomy, clinical documentation, and health information technology.
Coders assign the Current Procedural Terminology (CPT) codes to procedures and International Classification of Diseases (ICD) codes based on the physician's diagnosis. Medical Coders review medical records from doctors and assign the correct code. These codes are used to bill the insurance carrier.
They have to identify and apply from 144,000 different codes and then communicate with the biller to process and file the claim with the insurance company.
Medical Billers
Medical billers enter the treatment codes such as CPT and ICD codes into an EMR (Electronic Medical Records) software along with patients' demographic and insurance information.
They also audit and submit claims for the patient's diagnosis and all other procedures performed by physicians.
Frequently, medical billers must interact with patients to obtain their insurance information or to collect co-payments and deductibles. Lastly, Medical Biller's monitor and follow up with insurance companies to make sure that the bills were paid.
In some instances, both jobs work in conjunction; so do they both come with the same set of benefits?
The quick answer is no.
Benefits of Outsourcing Medical Billing and Coding
Outsourced medical coding and billing services reduce cost, lead to faster claim processing, and increases revenue by:
Processing claims accurately and quickly.
Avoid heaving to negotiate with patients, insurance carriers and payors.
Lets you focus on treating patients and running your practice.
When it comes to coding, the benefits include:
Seamless generation of customer-specific reports.
Fewer claim denials.
Medical Coder Salary
The average salary for medical coders vary by region and experience, but typically range from $51,902 to $62,685 per year.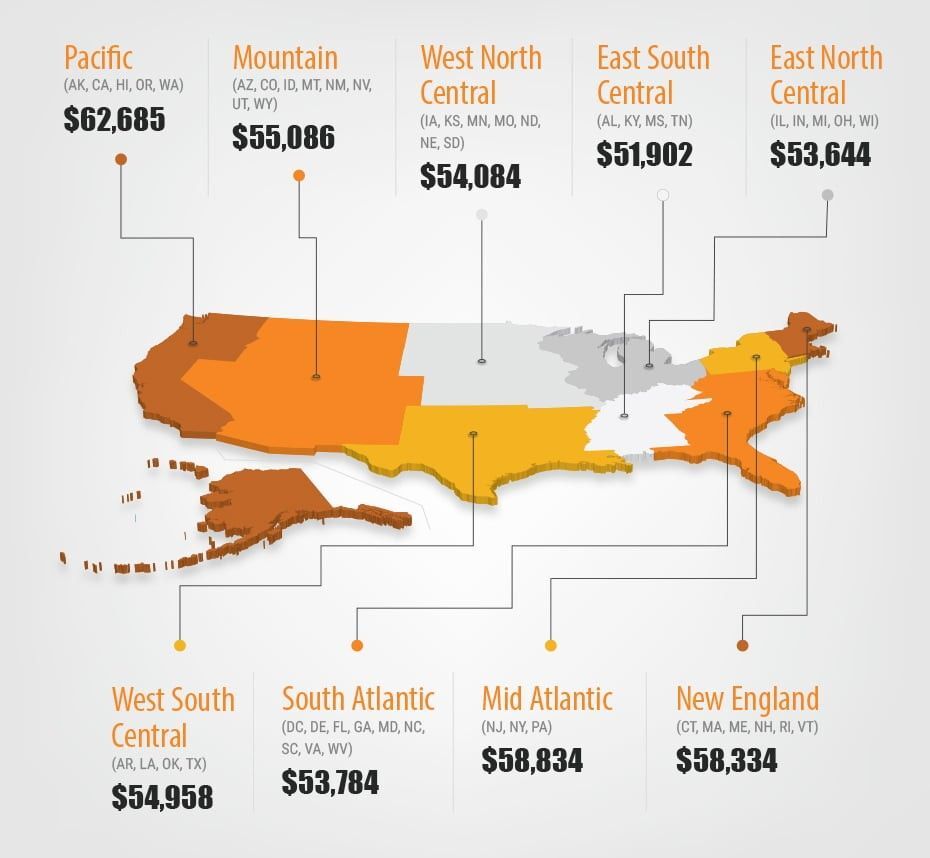 Another differentiator in salaries is by certification with range from $55078 to $77,333
Average Medical Coding Salary by Credentials
| Credential | Median Salary |
| --- | --- |
| Certified Professional Biller (CPB™) | $55,078 |
| Certified Professional Coder (CPC™) | $57,201 |
| Certified Outpatient Coder (COC™) | $65,028 |
| Certified Professional Coder-Payer (CPC-P™) | $62,612 |
| Certified Inpatient Coder (CIC™) | $63,191 |
| Certified Risk Adjustment Coder (CRC™) | $64,882 |
| Certified Professional Medical Auditor (CPMA™) | $69,172 |
| Certified Documentation Expert-Outpatient (CDEO™) | $69,987 |
| Certified Professional Coder-Instructor (CPC-I™) | $75,403 |
| Certified Professional Practice Manager (CPPM™) | $71,004 |
| Certified Professional Compliance Officer (CPCO™) | $77,333 |
| AVERAGE | $62,175 |
AAPC (Source)
Medical Billing and Coding- Shall You Go In-house or Outsource it?
Various studies have found that there are high rates of errors in medical billing which cause millions in lost revenue.
Did you know that 90% of the claim denials are preventable? Considering these stats, processing billing in-house comes with a high price.
Outsourcing billing not only reduces errors; it also leads to an increase in cash flow, enhanced security of patients' records, and a reduction in training expenses.
Free Consultation & Audit
GreenBills has been billing and collecting since 2004. Our certified billers and coders are able to electronically bill private/commercial, no-fault and worker's compensation claims from our state-of-the-art software.
Fill out the form on our website for Free Consultation & Audit of your practice and find out how much your practice could save.