With digitalization affecting every aspect of our life, even the medical and healthcare area is transformed. Medical records are now available online for doctors and healthcare providers to view and make their analysis.
As medical records move online, it has given rise to the requirement of medical billing and coding specialists. If you're someone who wants to contribute to a good cause but does not want to become a nurse or a doctor, medical billing and coding offer an alternative.
Medical coders work with medical teams in health care facilities, hospitals, insurance, and billing companies. It is even possible to work as an independent contractor.
Workers' Compensation Billing & Collections
Over a decade of experience collecting on behalf of no-fault & workers' compensation medical providers in New York, New Jersey & Michigan.
No-Fault Billing & Collections
Over a decade of experience collecting on behalf of no-fault & workers' compensation medical providers in New York, New Jersey & Michigan.
Commercial/Private Billing & Collections
Over a decade of experience collecting on behalf of no-fault & workers' compensation medical providers in New York, New Jersey & Michigan.
What is Medical Coding?
Medical Coding involves translating medical procedures and diagnoses advised by health care providers into an alphanumeric code known as CPT or ICD. Medical Coders ensure that all information is coded appropriately and accurately.
Medical coding ensures an accurate record of a patient's health, aids in the medical billing process and also serves the purpose of planning for the under-served areas.
What does a Medical Coder do?
Individuals who work in the medical coding department make use of a technology called EMR/EHR to keep track of patient health records and obtain the payment of services provided by health specialists.
Medical coding specialists enter the codes for diagnosis received by a patient and a list of procedures that have been completed to keep the records up to date. Such specialists usually work at medical centers, hospitals, rehabilitation centers, and insurance companies.
Though responsible for the electronic maintenance of data, some medical offices may still require them to perform paper filling. The most important task of a medical coder is to ensure that coding is accurate to facilitate proper updating of billing and health information.
Having accurate data is essential to ensure patients receive proper care and that the insurance companies can process claims. They also need to ensure that the data is safe and secure. Medical coding specialists also need to learn about security measures to ensure compliance and protect the patient's details.
In addition to this, the list of duties include:
Analyzing patient records
Determination of correct code for a patient record
Using codes required for insurance providers
Interaction with health care specialists and assistant to ensure accuracy of information
Keeping track of patient data at every visit
Manage coded information
Maintain security and confidentiality of patient information
Review records and reports for accuracy
Assign codes for diagnosis and treatment of diseases
Conduct regular follow up related to code updating
Analyze and compile patient data for further research
Importance of Medical Coding in Healthcare
In case you have wondered why medical coding is a smart career choice today, you need to understand that with the growing demand for health care services, medical coding is an in-demand career. It is expected to exceed growth expectations when compared to other occupations.
As the healthcare industry is evolving, you'll have the option to grow and learn, provided you keep yourself updated on the latest technology. You can start a career in this field within a few months of learning rather than having to wait for the completion of lengthy course work.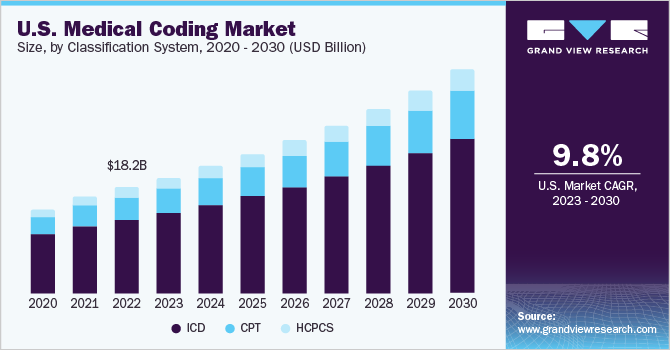 Let's look at some of how medical coding is necessary for modern healthcare.
1. Patient care
Medical coding uses information from a range of sources which include medical notes, e-note, lab reports, and transcriptions to turn them into codes.
These specialists transfer the codes from the sources to the billing system and patient records. Coding is a critical step as it can affect medical care and particularly medical reimbursements.
With the right medical coding being done, insurers receive the correct codes required for payment. Besides this, coding is also critical to study the prevalence of a disease, treatment outcomes, and demographic assessment.
2. Ensuring timely payments
Medical billing ensures the smooth operation of a revenue cycle. Medical billers have an understanding of the different regulations related to public and private insurance policies. Efficient management of such components ensures continuous revenue flow.
3. Regulatory compliance
Medical billing and coding may be mandatory under government guidelines and most countries require protection of patient data to protect sensitive information.
Furthermore, health care providers are bound by insurance contracts which provide rates for medical procedures and treatments available. With accurate coding and billing, contractual compliance can be ensured by doctors and timely completion of work can take place.
4. Statistical analysis of diseases
Medical Coding allows the statistical analysis of diseases and easy to observe and track pandemic events. It also helps to inform the health organizations' decision support system.
The data from the hospital along with coding, make it a powerful tool. Having access to the trends from different sources can help in cost control and improve patient satisfaction.
With so much data being generated every moment, researchers can analyze the trends with high-level data analysis. And all this is possible with the help of medical coding. It makes the medical coding specialists the front line worker in healthcare data analysis. It is their ability to code which plays a significant role in the development of a health care system and the right medical coding serves as a way to procure proper diagnostic data to be used in improving patient care.
Summing it up
If you're serious about becoming a medical coder, you need to undergo specialized training besides having a high school diploma.
The specialised training isn't similar to normal degrees and there are fast and flexible options to complete the same. This is also what makes this career choice ideal for those who want to support their family financially.
You'll always be on the learning mode as the role of a medical coder involves changing medical scenarios. No matter how long you have been working on the job, there will always be something more to learn.
As a Medical Coder, you can make a difference by ensuring the healthcare facilities run smoothly. Although you aren't saving lives you'll have the chance to ensure that the patient's data is safe and secure with all data related to patient records, procedures and other billing details.